Ebrima Jallow, 47, sits on a smooth, cozy sofa in shiny-red leather coatings in his parlour in Latrikunda German, a suburb of Gambia's largest town, Serekunda, about 14 kilometers from Banjul, the capital.
The sitting room of his luxury self-contained house of five bedrooms is furnished with sofas, chairs, tables, a cupboard, and a 49-inch flat Hitachi TV set fitted onto the walls; the ceiling is made of shiny red timber.
"All of the furniture in here is imported from the United States," he said. Up until 2017, he and his wife with their five children and his aging mother lived in poor housing conditions.
They had electricity and running water but without flush toilets. They had two pit-latrines.
In 2016, two of his elder brothers (one in the United States and another in France) decided to build a better and bigger house for the family, investing up to D2 million (more than $42,000) in remittances to this cause. "If it was not for the money my brothers sent from America and France, I wouldn't have been able to build this house on my own even in 40 years," said Jallow, a former guard at G4S Security Company, a global security solutions group, which operates in 98 countries.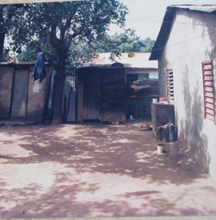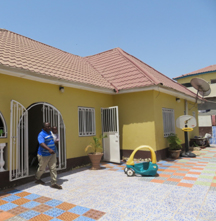 "I was never going to make it; life would have been very difficult," he said, having worked for 10 years as a security guard between 1996 and 2006. "I used to earn D1,500 [a little over $30] per month which is not enough to take care of the bills and other household needs."

Jallow's family is among 122,310 households in The Gambia that are directly benefiting from money transferred from relatives abroad. Of 280,659 households in The Gambia, 36 percent received remittances as of 2017 either from a member of the household or another individual outside of the household, according to the Integrated Household Survey, a government study, released in October 2017.

Migrant remittances are recognised to be a significant channel through which Gambians in the diaspora contribute to local development and poverty alleviation. In recent years, remittances surpassed foreign direct investment as the biggest source of financial inflow to the West African country – becoming one of the largest sources of foreign exchange for the country.

Jallow's brothers [a computer expert in the U.S. and a carpenter in France] have been sending transfers home on a monthly basis over the years to meet the cost of basic needs like food, water, electricity, healthcare, and school bills.

They have helped him establish a business, Gamway Enterprise, an import and clearing agency, on which his family's livelihood is now dependent, and have bought him a Ford Edge Limited car worth D1.5 million (about $40,000) to ease his movements and business dealings.

"My brothers regularly ship containers of goods on behalf of other Gambians, which I clear at the ports for onward distribution," he said. "I use the proceeds to pay for my children's education, their healthcare needs, feeding, water, and electricity, and buy fuel for my car," said Jallow, who was awarded the "Best Parent" in 2016 by a primary school for meeting his children's education fees on time and regularly checking with teachers how they are faring.

His brothers continue to send money for food. "Monies sent by relatives abroad are helping a lot of people like me," he said.


Largest Recipients

Remittances to low-and middle-income countries reached a record high $529 billion in 2018, an increase of 9.6 percent over the previous record of $483 billion in 2017, according to the World Bank's latest Migration and Development Brief.

Global remittances, which include flows to high-income countries, reached $689 billion in 2018, up from $633 billion in 2017, while transfers to Sub-Saharan Africa grew almost 10 percent to $46 billion in 2018. This is supported by strong economic conditions in high-income economies, the Bank said.

In 2018, The Gambia received $245 million (more than D11.5 billion) in remittances to Sub-Saharan African countries – representing 15.3 percent of the country's gross domestic product (GDP) – an increase of $17 million from the 2017 figure of $228 million.

The World Bank said The Gambia is the second largest recipient of remittances as a share of GDP in Sub-Saharan Africa, only behind Comoros and ahead of Senegal, Ghana, and Nigeria – whose $24.3 billion remittance inflow is only 6.1% of GDP.
---
Gambia's total stock of emigrants was 89, 639 in 2015, with the United States, Spain, the UK and Northern Ireland, Sweden, and Germany among main destination countries.
---
While this new development shows a 5% increase in remittance to GDP from 10% in 2012, the remittance inflow to The Gambia is bigger than the country's entire export in 2018 which stands at $91.62 million.
According to the United Nations Department of Economic and Social Affairs, Gambia's total stock of emigrants was 89,639 in 2015, with the United States, Spain, the UK and Northern Ireland, Sweden, and Germany among main destination countries.
Remittances
provide basic necessities for hundreds of thousands of families in The Gambia
to meet cost of living, and it also creates thousands of jobs in the construction industry every year.
"The Gambia is at the developmental stage to harness the full potentials of remittances," former Central Bank Governor Amadou Colley has
said
.
"Most of the remittances flows are channeled into consumption but it also plays a significant role in housing financing and a key driver of sectors such as wholesale and retail trade. Most of the investments in the real estate sector are done by Gambians in the diaspora."
Want to Leave

Thousands of young Gambians leave the country every year for Europe through deadly deserts and high seas. Over 8,000 Gambians arrived in Europe in 2017, making the top five nationalities crossing the Mediterranean alongside Nigerian, Guinean, Pakistani, and Bangladeshi nationals, according to a [migrants] Flow Monitoring Survey published by the International Organisation for Migration (IOM) in February 2018.

Those in pursuit of socioeconomic advancement are mainly youths. Figures from Gambia's Immigration Department indicated that for the more than five thousand Gambians who arrived in Italy in rickety boats via the Mediterranean Sea in 2017 – about one thousand five hundred were unaccompanied children.
Today, a lot more are still willing to leave. The latest study released in March this year by the pan-African research network, the Afrobarometer, stated that there are a good number of Gambians who actually thought of leaving (up to 56%) of the population.

The Gambia is among the top three countries alongside Cabo (Cape) Verde (57%) and Sierra Leone (57%) whose young and educated thought of emigrating.

Nearly half of the country's 2.3 million people are poor, and are living below $1.25 a day. In recent years, a brutal dictatorship under former President Yahya Jammeh pushed several thousand people into fleeing. Many others also fled The Gambia to look for better economic opportunities abroad.

Ebrima Bittaye, 22, a carpenter in Latrikunda German who repairs wooden sofas, said he wants to leave. "I believe there are greater opportunities for me out there. I want to be able to build a better house for my mother, build my own house, and help her live a better life," he said in an interview.

Between 2010 and 2014, more than 500 Gambian migrants have died while trying to reach Europe through irregular means, according to The Gambia government.

Bittaye said he was aware of the risks involved in trying to reach Europe through irregular means, but he is undeterred.

"I know. But a lot of people, a good number of them, my age mates, have succeeded in reaching Europe through the 'back-way' [the name Gambians use to refer to irregular migration]," he said. "I do not think about the dangers, all I do is pray to God to make it easy for me to reach Europe in peace."

The numbers of people fleeing poverty or persecution have generally been reduced, but migrants are still going to Europe via deserts and the Mediterranean, though prospects of having asylum now appears slim since the fall of ex-president Yahya Jammeh.

According to the European Union (EU) border and coast guard agency, Frontex, the number of migrants arriving in Italy through Libya between January and September 2017 fell by 13 percent to 99, 800 with Nigerians and Guineans making up the largest number.

On the Western Mediterranean, though with a significantly smaller number compared to the figures above, the number of detections of illegal border crossings into Spain by both sea and land reached 13, 600. This figure is nearly three times higher than that of 2016, and the most migrants detected on this route in 2017 are from Morocco, Ivory Coast, and The Gambia. In the first quarter of 2019, the total number of irregular migrants using this route has reached 5,450.
---
An 11 million euro Youth Empowerment Project (YEP) funded by the European Union's Emergency Trust Fund for Africa (EUTF), is helping build skills for returning and would-be migrants.
---
But European governments are pushing them to go back home by funding development projects in countries of origin. An 11 million euro
Youth Empowerment Project (YEP)
funded by the European Union's Emergency Trust Fund for Africa (EUTF), is helping build skills for returning and would-be migrants on entrepreneurship, and other trades like preparing them for work in the hospitality industry.