What do you get when you combine family roots from the heart of Dixie with a girl born and raised in California? With Lori Rogers, known as
Chef Lorious
, you get new and innovative twists on classic recipes. In her first cookbook, Calibama Cooking, Lori puts it all together in a delicious collection of classic and contemporary comfort food recipes.
Each recipe in Calibama Cooking has easy-to-follow instructions, full color photos, tips and serving suggestions, and feel-good stories from Lori's life. One of the recipes includes
Baked Potato and Bacon Soup:
Baked Potato and Bacon Soup
Initially, I considered not including this recipe because I figured we've all got enough potato soup recipes. But then I got to thinking, why not? It's a family favorite, and it welcomes autumn into our home like nothing else can.
Serves 6-8
---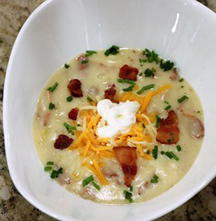 ---
Ingredients
2 pounds bacon, cut into cubes
1 cup flour
5-6 cups chicken broth
3 pounds potatoes, baked, boiled, or microwaved until fork tender, peeled, and cut into cubes
1 teaspoon nutmeg
½ teaspoon cayenne pepper (optional)
1½ cups heavy whipping cream