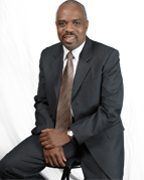 Wayne A. Young was a disc jockey while studying business administration at Iowa State University. He completed his graduate degree in Marketing Communications at Roosevelt University in 1984.

Young started Port Of Harlem magazine in 1995 as a collectible item distributed at a Black memorabilia and collectible show. The first publication featured a collection of articles that he had written for publications ranging from the Washington Afro-American and Gary Post-Tribune newspapers to American Legacy and UpScale magazines.

He named the magazine after the world's most famous Pan-African community to reflect the magazine's inclusive, diverse and Pan-African. perspective. After publishing annually in black and white for the first four years and biannually for the following four, Port Of Harlem became a full-color, quarterly publication in November 2003.

To meet the challenges caused by changing reading habits, Port Of Harlem returned to being a biannual publication in November 2009, is now completely green, and released its first mobile friendly issue June 15, 2015.
Media Appearances
Port Of Harlem
November 2011 - April 2012 Print Issue
What Happened to the Retooling of Our Minds?

January 26 - February 8, 2012
Washington, D.C. - Southeast

August 22 - September 5, 2012
Why I Love My President

October 4 - October 17, 2012
Sexual Freedom Summit Encourages Americans to Talk About Sex

Eating Kenyan in Bethlehem, PA

November 29 - December 12, 2012
A New Generation Fighting Oppression - Facing Race Conference

June 13 - June 26, 2013
Obama's Big Gift to Black America

June 27 – July 10, 2013
Surviving the South Pacific

November 28 - December 11, 2013
More Social Security In Your Future?

83-Year-Old Makes First Trip to West Africa

January 9 - January 22, 2014
Long Struggle to the USA

March 6 - March 19, 2014
Even for a Visit, Prison Was No Fun

June 26 - July 9, 2014
Gentrification – Blacks Tricked?

July 24 - August 6, 2014
Religious Revenue Down

August 21 - September 3, 2014
Hot Internet Series: An African City

September18 - October1, 2014
Harlem Rens - Off Broadway

October 2 - October 15, 2014
Africana Book Awards

December 11 - December 24, 2014
The Perfume Chick
January 22 - February 4, 2015
Rehashing 1970?

Win Choir Boy Tickets - Studio Theater

February 5 - February 18, 2015
Bessie's Blues

July 23 – August 5 2015
Branding Africa?

October 1 - October 14, 2015
3-D Cars on the Road

Uprising

November 26 - December 9, 2015
Akeelah and the Bee – Good Fiction

January 21 - February 3, 2016
Respecting our Ancestors' Religions

April 14 - April 27, 2016
Book Review: Mr. Okra

July 21 - August 3, 2016
Social Security Expansion on the Table




August 18 - August 31, 2016
New Tuskegee Airmen Memorial Opens

October 27 - November 9, 2016
George Pullman and A. Phillip Randolph's Chicago

November 10 - November 23, 2016
Your Retirement and Social Security Expansion

December 8 - December 21, 2016
Done with TV News and Papers

December 22 - January 04, 2017
Why An Afrikan Revolutionary Voted for "The Duck"

February 2 – February 15, 2017
The End of White Christian America

March 2 - March 15, 2017
Rev. William Barber - Recovering the Moral Center

May 11 – May 24, 2017
Future Of Wealth Summit Drove Its Point Home

May 25 – June 7, 2017
Highly Engaged Discussion: Post Slavery African Immigration

June 22 – July 05, 2017
DC Gentrification Symposium

An August Wilson Lover's Must-See

Permission to Feel the Loss

July 6 – July 19, 2017
Tony Browder: "Use the Museum to Become the People We are to Become"

The Sound of DC is Changing: Thoughts on Gentrification

July 20 – August 2, 2017
Welcome to the Ball

August 31 – September 13, 2017
The Wizard of Hip?

Blues Museums Planted Along the Mississippi

September 28 - October 11, 2017
Do You Believe in Hell?

October 12 – October 25, 2017
Our Indian Money

Indrias G. Kassaye – From UN to Film

October 26 – November 8, 2017
The State of Housing in Black America: Own the House, Rent the Car

Are You Now or Have You Ever Been

November 23 – December 6, 2017
African Ancestry DNA Test Winners

December 7 – December 20, 2017
Nina Simone Remembered at Arena Stage

December 21, 2017 – January 3, 2018
Indiana Dunes National Lakeshore

January 18 – January 31, 2017
Review: Queens Girl In Africa / Ticket Winner: Darlene Houze

March 1 - March 14, 2018
Women of Port Of Harlem
April 12 – April 25, 2018
"Paper Dolls" at Mosaic Theater