Praising the Past
Blacks and the Sport of Kings
The recently completed 2011 Triple Crown of Thoroughbred Horseracing (Kentucky Derby, Preakness Stakes and Belmont Stakes races) is the zenith of American horsemanship. In the rarefied air of American sporting events, only the World Series (baseball) and Super Bowl (football) come close to matching its significance. However, neither have deeper, older roots in history. Also, one can associate the level of difficulty of winning the Triple Crown by knowing that no horse has won all three races since 1978.

This year, Americans were excited as oddsmakers were enthusiastically chattering about the possibility of a female jockey, Rosie Navpravnik, winning at the track. Not in the news was Maryland State Delegate Emmett C. Burns' comments. While speaking specifically about the Preakness, which Maryland hosts, he caused a brief lamp to be held to one of horse racing's most uncomfortable secrets: the absence of Black jockeys in big time races. Burns revealed that the wildly popular University of Arizona's race track program has graduated only one Black since 1991 and that the racial makeup today in the major horse races is quite different from years ago when Black riders dominated the sport and won large prizes for White owners.

Supporting Burns' assertions are Kentucky Derby Museum records revealing that 13 of the 14 jockeys in the derby's first race on May 17, 1875 were African Americans. Additionally, several of the jockeys had Black trainers. One of those jockeys, Oliver Lewis, rode his horse, Aristides, to victory. Out of the first 28 Kentucky Derbies, African American jockeys won 15. The legendary Black jockey, Isaac Murphy, won three Kentucky Derbies during a 16-year period, a record which stood for more than 30 years.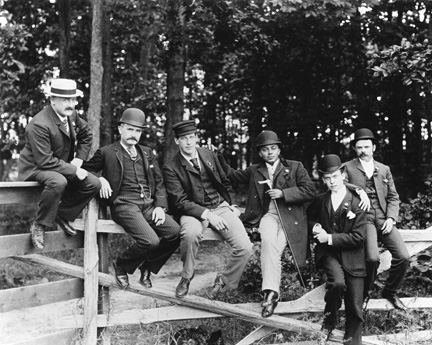 Ed Brown was the first African American jockey to win the Belmont Stakes in 1870. After his riding career was over, he trained many winning horses including Baden Baden, who finished first in the 1877 Kentucky Derby and third in that year's Belmont Stakes. Willie Sims remains the only African American rider to win all three Triple Crown events. He had back-to-back Belmont Stakes wins in 1893 and 1894. He won the Kentucky Derby in 1896 and 1898, the same year he clinched the Preakness. George B. Spider Anderson was the first Black jockey to triumph at the Preakness in 1889.

African Americans began riding in races well before the American Civil War. However, they would be Jim Crowed out of the sport by the 1920s because of their notable success and the more lucrative purses.

Their skills and flash had made racing and themselves incredibly popular. A Brooklyn newspaper reported in the 1880s that Virginians of every degree have a taste for horses. The horse is the great leveler of society: all interests center about him. Governors, senators, generals, jockeys and Negroes meet him on common ground and shake hands over his back. Black jockeys were such familiar characters a century ago that in the New York City play, One Dime or a Jockey's Dream, an injured White jockey disguised himself as a Black jockey to solve a case and save the day.

In many parts of Africa, horse racing and equestrianship are still traditions. And it is likely that many enslaved Africans brought a love and knowledge of horses with them through the Middle Passage to the Americas. Therefore, while horsemanship may appear to many Americans as a White thing, the Sport of Kings has African roots, too.
After 15 years of being a print publication, we are going completely green. Read this, Gibbs' future stories and the list of Gibbs' free history lessons in Snippets (that we send via e-mail to you) or on Gibbs' page at PortOfHarlem.Net. Encourage your friends to get Snippets directly by signing up for Snippets today!
Photos: Isaac Murphy (top picture). Murphy 4th from the top (bottom picture).
Photo credit: Keenelan Thoroughbred Racing & Sales